What is Invisalign?
Invisalign is the invisible way to straighten teeth without braces. Invisalign uses a series of clear, removable aligners to gradually straighten teeth, without metal or wires.
How does Invisalign work?
Invisalign uses 3-D technology to depict the complete treatment plan from the initial position to the final desired position. From this treatment plan a series of custom-made, clear "aligners" are produced, each of them are worn for about 2 weeks and then switched to the next aligner. Each "aligner" is shaped slightly different than the aligner that precedes it and will gradually reposition your teeth until the final position is achieved.
What are the primary benefits of Invisalign?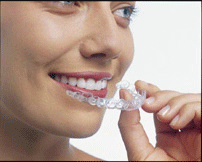 Invisalign is clear. You can straighten your teeth without anyone knowing.
Invisalign is removable. Unlike braces, patients don't have to alter their eating habits. You can also brush and floss normally to maintain good oral hygiene.
Invisalign is comfortable. There are no metal brackets or wires as with braces to cause mouth irritation, and no metal or wires means you spend less time in the doctor's chair getting adjustments.
Invisalign allows you to view your own virtual treatment plan before you start—so you can see how your straight teeth will look when your treatment is complete.
What are aligners made of?
Aligners are made of clear, strong medical grade plastic that is virtually invisible when worn.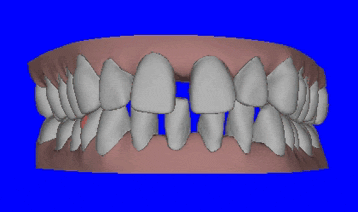 Will the treatment be painful?
Most people experience temporary discomfort for a few days at the beginning of each new stage of treatment. This is normal and is typically described as a feeling of pressure. It is a sign that Invisalign® is working—sequentially moving your teeth to their final destination. This discomfort typically goes away a couple of days after you insert the new aligner in the series.
Will wearing Invisalign aligners affect my speech?
Like all orthodontic treatments, aligners may temporarily affect the speech of some people, and you may have a slight lisp for a day or two. However, as your tongue gets used to having aligners in your mouth, any lisp caused by the aligners should disappear.
Can I chew gum while wearing aligners?
No, gum will stick to the aligners. We recommend removing your aligners for all meals and snacks.
What's the best way to clean my aligners?
The best way to clean your aligners is by brushing and rinsing them in lukewarm water.
How often must I wear my aligners?
Aligners should be worn all day, except when eating, brushing and flossing.What happens after treatment to prevent my teeth from moving again?
This depends on the outcome of the treatment. Some patients might need a positioner, or conventional retainer. Other patients might need a clear plastic retainer similar to the ones Invisalign makes. Discuss these possibilities with the doctor. Every patient is different and outcomes vary.

Call (406) 866-3700 to schedule a complimentary Invisalign Consultation!